I am often contacted by someone who wants to know, Mistress how can I be your money slave?
This is a really stupid question.
There is no magic wand I wave and ta-da! You're a money slave.
There *is* training, but that is to deepen your addiction to Me, to fuck with your mind so thoroughly that you can't help but be obsessed and addicted to Me.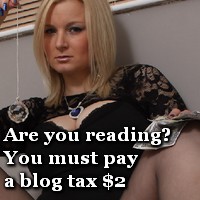 To be a money slave, one must pay.   That's how it starts.  It's so fucking obvious, one would think that you don't have to say it.
If you want to email Me endlessly about being My financial slave, but don't offer at least an initial tribute, then you are trying to yank My chain and you *will* be ignored and possibly blocked.
I offer lots of ways to pay Me, there is Niteflirt, there is Talk Sugar and I have a MyPhoneSite page.  I can accept tributes through Clipvia.  There are Amazon gift cards (which I take to a certain degree, it doesn't pay My mortgage on My beautiful home), and I do like getting all kinds of gifts from Amazon and other sites. (See My shipping address in the "how to pay Me" tab.  But don't expect to buy two or three things for Me and get attention.  You will when I actually RECEIVE the item (its far tooo easy to cancel,)
You can also send cash in the mail (YUM),   Address on this page (Slaves that do that report it is incredibly hot–but let Me know, so I can look for it) If you want instant attention that's not your best choice :)
You can send gift cards and report payments to Laurenamazon@gmail.com   You can also email Me there to ask Me to turn on the phones on Talk Sugar, as I generally do not.
Also, please note that I do NOT take Paypal.  Don't ask Me, its annoying.  Why?  Paypal is not supposed to be used for adult purposes, and its far too easy for the guy to charge back, and wham! No $$$ or the Mistress, and a closed and frozen Paypal account. (I know girls its happened to). So dont ask, you'll just get ignored.
And I am not likely to go to the trouble to open an account to accommodate you to a different payment method, so don't ask, you have lots of choices here, figure it out.
NEWSFLASH.  Niteflirt is now accepting international calls, so now no matter where you are, you can call Me from there.
Now, stop lurking on My pages and start BEING My slave.